---
- STUFF TO DOWNLOAD -
The .T64 and .D64 files below are in the standard emulator tape and disk formats. The .PRG files are in the C64 native format. For details on these file formats, and info on how to get them onto your 64 floppies, read the comp.sys.cbm FAQ.
NOTE: With some browsers, you may need to right-click on the link and choose "Save Link As...".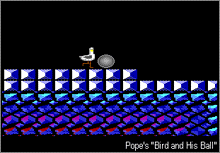 These are just a few prg's I've coded. They're nothing terribly special but what the hey, I certainly have the time to upload them. And as always, I'll take any feedback I can get.
"A Bird and His Ball"

This is a one level game I wrote a while back to test some fledgling character scrolling routines. I'm warning you, it's pretty rough around the edges, with very little entertainment value.

The Incredible Shrinking BASIC

This microsizes your basic "desktop". It's pretty useless, but at the same time... strangely intriguing. I coded this to get some experience with the C64's bitmapping abilities.

Character Spinner

This is twice, if not three times, as useless as the shrinking basic program. Enjoy.

CASM Version 1.3 [You can use GSView to read the docs]

We've been coding the fox game with CASM, my "full-featured" cross-assembler for the C64. We type the stuff up in a text editor on the IBM, assemble it with CASM, and then test it using an emulator (I recommend Miha Peternel's C64S, an excellent shareware emulator that is well worth registering). The final code is then downloaded to the real Commodore using an X1541 cable.

There is actually a much newer version 1.49b of CASM which fixes many bugs, but there is no documentation for it. (This is a bad thing, since it's not entirely backwards compatible with version 1.3.) The reason I haven't bothered with the docs is that I've started writing a new 32-bit CASM which will be much, much better.

[ON HOLD - SEE BELOW]

G-MON - Coming soon...

If you think cross-development is for lamers who can't handle the real '64, perhaps you'll be interested in G-MON, a native C64 debugger.

[ON HOLD - SEE BELOW]

We are currently working on a platform-based adventure game for the Commodore. It involves the exploits of the hero (a fox) as he tries to save his fellow woodland creatures from a sinister plan to control their minds. We should have finished the game a long time ago (February '96), but unless you're a software company, deadlines are next to impossible to determine.
CURRENT PROGRESS

At present, the following parts of the game are finished:
Pope's full-screen scrolling maps
His various editors for maps, blocks, characters, etc.
A large amount of the code for animated "enemies"
Most of the graphics artwork
Code for the exciting secret feature
A complete sketch of the plot - (Special thanks to Akintunde Omitowoju, its sole author!!!)
The following remain to be done: (Check back from time to time for updates.)
Write the music engine, and the music itself
Integrating Akin's plot into the game, which involves designing some sort of interface to allow the fox to manipulate objects in its environment (not as easy as it seems) and communicate with the other animals
1541 fastload routines (for non-emulators)
Tying all these loose ends together into a single program, slapping a thrilling title screen on it, and releasing it.
EXCITING NEWS!
The reason for all the recent delays is that in July 1998 we started a company developing video games for the PC. All current projects are on hold until this business gets off the ground. (We'll probably transfer the fox game to new maintainers.) Check out the web page for our new company here.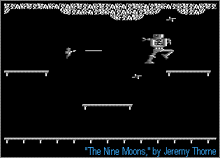 Click here to download The Nine Moons, a game written by Jeremy Thorne, the guy who first introduced Gonz to assembly language so many years ago. Besides being really hard to play, this side-scrolling space game has some pretty cool music and a cool ending.
Check back from time to time for more goodies...
---








Last updated: 1/17/99